RemedyFind has an extensive amount of information on depression, ranging from details on the various
kinds
of depression, to a regular
newsletter
on new research, to an extensive list of treatments rated by members. Only the top ten best-rated treatments with at least one hundred ratings are displayed on the front page, but the
complete list
is really quite instructive. Sortable alphabetically, by average rating or number of ratings, it goes through so many options that I realize I have a lot more research to do just to
understand
them all. For example, I did not know that a gluten-free diet has been proposed for treating depression. Apparently none of the RemedyFind members have tried it yet, but it's interesting to see that an alternative like that, or contraceptives, or even just reading blogs and email newsletters are included as potential alternatives.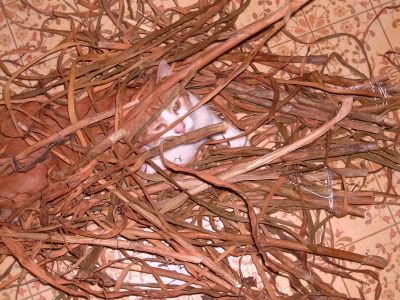 I think some of the therapies that have not yet been sufficiently evaluated to be included in the top ten are quite instructive. Only 36 members have tried prayer, and it scores an 8.1. More amazing still is the emotional support of pets, scoring an impressive 8.9 with 63 votes in. I'm going to keep an eye on the list to see how those two, in particular, do as more ratings come in. I've spoken a bit about
prayer
already, so I'm going to speculate a bit about pets, in particular mammals, since that's where my own experience lies.
I have had cats as companions all my life. They are incredibly empathic creatures, sensitive to your moods and able to sense when you're about to go to the bathroom, settling on your lap just moments before the pressure in your bladder builds to a climax. Granted, they have a sadistic sense of humor, but they also use this sensitivity to know when you need to be reminded of the nature of love. I have only had one dog, but he and the others I have known have made it obvious that, although they may be slightly less sensitive to the shifting moods of the human, they are even moreso a vehicle of unconditional love. Love is, in my opinion, the vital tool that pets wield, both innocently and adeptly.
Your pet does not judge you if you can't get out of bed one day. Their eyes do not accuse if you forget their birthday. They don't laugh at you when you try and fail, or give up without trying. This raw emotion of love that they project is in its most primitive form, unrefined by the nuance of human behavior. It is easy to understand, and it is easy to accept that there are no motivations for it. If depression has led to
anhedonia
then that love may be the first form of pleasure the victim is again able to feel. In turn, the victim will be more likely to take care of basic tasks, such as feeding, walking, and litter cleaning, for the pet than they are for themselves in some cases.
Feeling love. Completing basic tasks. For some serious sufferers, this marks amazing progress.
Other animals, rodents and fish and reptiles, probably can achieve similar results. However, insidious as it is, depression can turn that love into responsibility, and responsibility into guilt. There is no magic bullet, but the right pet can make a wonderful impact.